A Quick Guide to Buying FIBC Jumbo Bags Online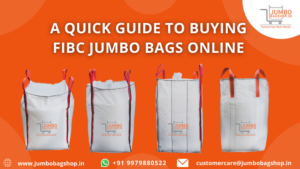 If your business deals with packaging and transporting products in large quantities, you must be familiar with names like Jumbo Bags, Big Bags or Flexible Intermediate Bulk Containers (FIBC). These are the most popular industrial containers designed for storage and transport of bulk cargo.
Here are some quick tips to help you buy big bags online.
Step 1 – Figure out your size requirement
Determine the bulk density of your product. Once you know how much product can be packed into 1 cubic meter, you can find out the volume required to pack 1000kg.
Tip: Do not fill big bags to the very top. The rule of thumb is to keep at least10% extra space.
Step 2 – Determine the size options available
Before you Buy FIBC Bags Online, find out the size options available for the volume you need.
The smaller the size of the base, the taller the bag will have to be to pack the volume you need. If you are choosing tall bags with a small base, watch out for the stability of the bags.
Tallerbags are less expensive to ship, but are harder to fill.
StandardFIBC bags or Jumbo Bags bulge at the sides by about 20% when full. Bags with internal baffles will bulge less, but they are more costly.
You will need to lift the bags into trailers or containers with the help of the loops. Keep minimum 50cm extra clearance.
Keep in mind any specific handling restriction that your customer has before deciding on BigBags Online.
Step 3 – Weigh your options
Now that you've determined the size and volume of your bag, it's time to find answers to some vital questions.
How to fill theFIBC Jumbo Bag?
Do you need to protect your product from harsh elements and contamination?
How would you lift and transport the container?
How would your customer unload the container?
Are the FIBC bags meant for single–use or multi-use?
Do you need a printing or document pocket?
Do you need any special features like liners, coated fabric or dustproof seams fitted when you buy Jumbo bags?
Does your FIBC need to be Food Grade or to be UN certified for dangerous material?
Step 4 – Find out FIBC Bags prices
The most important question when purchasing a bulk bag is "How much does it cost to buy jumbo bags?"
Well, for a start, the more features you need to have in your jumbo Bags, the higher the cost will be.
The more packages you buy at one time, the more chances you'll have of a quantity discount from preferred suppliers like Jumbobagshop.in.
Buying more at one go reduces the freight cost per bag.
The best way to get FIBC Jumbo Bags at your doorstep is toBuy FIBC Bags Online from Jumbobagshop.in, a leading online jumbo bag supplier.