An Introduction to Garden FIBC Bags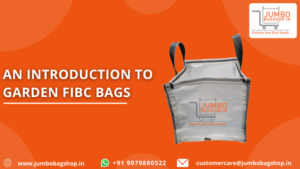 What Are FIBC Garden Bags?
FIBC Garden Bags are easy to store and tough. These bags have vented weaves that allow the passage of air through their contents and are preferred over regular wheeled bins. Garden Bags are commonly used in households to carry dried leaves & other unwanted material from one's garden.
Let's discuss some key things you should know about Garden bags.
Features of Garden Waste FIBCs
One of the latest inclusions in the FIBC industry is Garden Bag. These unique Garden Bags are designed to specifically deal with various forms of garden waste like dried leaves, broken twigs, branches, etc.
A few interesting features of FIBC Garden bags are as follows.
Integrated Vents. The FIBC Garden Bags are built using vents that are strategically placed that facilitate the drying of the material collected. This is useful in the case of products that give out an odor that is not properly vented or materials that require their moisture to be drained before use.
Easily Accessible. Garden Waste bags have an open-top which makes it easy for the user to collect the waste and put it in the bag.
Weighted Base. These bags contain a weighted base which helps to keep the bags upright while loading and unloading. This helps especially in the cases where dry leave or lightweight waste is being filled into the bags. Strong winds cannot knock them over.
Choose the Right Manufacturer
The benefits and features of Garden FIBCs make this a niche solution for a niche requirement. Without the right vendor, it is difficult to fully understand the pros and cons of an innovative product such as the Garden FIBCs. Therefore, it's vital to work with a manufacturer who has certifications and experience in the FIBC industry.
One such manufacturer of Garden FIBCs is Jumbobagshop.in. We are a major contributor to the FIBC industry in India. With expertise in every possible FIBC spectrum and over three decades of experience, we have been providing innovative and tailor-made client solutions to a multitude of our customers.
Being a leading Garden FIBC manufacturer in India, we have a large selection of Garden Bags online to choose from. With Jumbobagshop.in, you can Buy Garden Bags online and get them delivered to you with the click of a button. To take advantage of our attractive Garden Bags Prices, request a free quote today!