Avail Our Independence Day Offer and Enjoy Jumbo Savings on Our Jumbo Bags!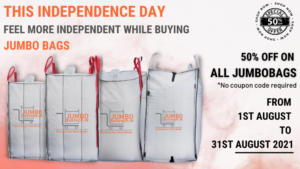 With Independence Day right around the corner, major sellers and suppliers are offering massive discounts on goods and products. Why should FIBCs be any different? Jumbobagshop.in takes this opportunity to help you save big on your FIBC purchases.
We are running a site-wide Independence Day sale on ALL our products throughout the month of August. Shop with us and get 50% off on any item you pick.
As a leading FIBC manufacturer, we bring to you the very best in terms of quality and cost savings. Our Bulk Bags or Jumbo Bags are woven from superior-grade polypropylene and designed to comply with global standards. We offer a wide range of Bulk Bags, from different types of lifting straps or baffles to various shapes and sizes, we have them all!
Our FIBC bulk bags ensure efficiency in funneling and storing dry bulk materials, such as sand, grains, gravels, and more. We also stock a huge inventory of specialty bags including heavy-duty garden bags, silage bags, eco-friendly shopping bags, and multi-purpose bags. Our products are built to endure rough handling and outdoor environments, so they offer maximum protection to your goods during transit or storage, while reducing your shipping costs. With our ongoing sale, here's your chance to save even more!
Our site-wide sale ends on 31st August 2021. Don't miss this offer to save big on our incredibly durable FIBC bags that meet all industry standards and certifications.
Explore Jumbobagshop.in now and make the most of this Independence Day!