Expert Advice: Packing Coffee, Cashew Nut, Rice, etc in Jumbo Bags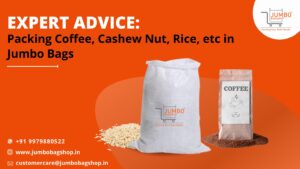 Why are Jumbo Bags preferred so much?
In order to ensure that your product remains fresh from storing, packing to transporting, it is important that the external environment does not have any effect on the items. Experts advise that solid dry bulk items like coffee, nut, rice, cashew, etc should be packaged inside Jumbo Bags for the following reasons:
1. Light in Weight but can hold Heavy Weight:
FIBC bags are as light as feathers to their counterpart's metal containers. But this lightweight bag should not be taken lightly as it is strong enough to carry heavy weight up to 6000 pounds or 2500 kgs in a single bag itself. These bags are definitely more convenient as they are not supposed to be brought back to their original location whenever they are empty as observed in the case of metal containers.
2. Cost Effective Packaging:
Inflexible packaging containers like boxes are not advisable for preserving coffee, nuts, rice, etc. Not only are they expensive but also leave a pungent smell in the product due to the material used while packing the product. With Jumbobagshop, you can ensure your product gets the air to pass through it if the nature of the product requires the same. Also, you can even get your solid bulk materials laminated when you buy PP woven sacks. These sacks keep the moisture in the environment locked outside itself.
3. Enhance your Storage Space:
At Jumbobagshop, your FIBC bag can fill additional contents, especially in the case with Baffle Bags. Moreover, these bags enhance the storage space at the warehouse as they are compatible as stackable containers.
At Jumbobagshop we ensure that your solid bulk materials like coffee, nuts, cashew, etc enjoy enhanced safety. For this reason, our unique and innovative packaging for the past 30 years goes hand in hand with our client's requirements. Now, when you think about packaging your solid dry bulk items like rice, coffee, nuts, cashew, etc, Shop Now at the Jumbobagshop as your one-stop solution to all your packaging needs.