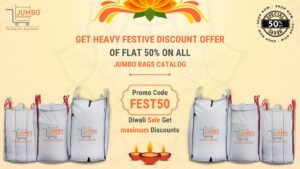 The occasion of Diwali brings happiness all over. And with this Jumbobagshop comes up with great news! Jumbobagshop comes up with Diwali Sale which helps you save money with various discounts and offers. It is the time of the year when everybody is looking to shop and save money.With our Diwali sale, you can avail jumbo discounts on the entire product catalogue of our FIBC products.
From a huge catalog select any FIBC bag from our inventory and use the code 'FEST50' during checkout to get a flat 50% discounts till 30th October 2022!
At Jumbobagshop.in, we pride ourselves in being one of the largest suppliers of FIBC Jumbo bags online. We have every Bulk Bag variant you can think of, 100% virgin polypropylene gives our Jumbo Bags their excellent ability to resist contamination and degradation.
These bags made from Polypropylene are a step forward in packaging solutions over traditional packaging methods. As such these Bulk Bags have become the popular choice as cost-effective and custom packaging solutions across industries around the world. 
We offer a wide range of Bulk Bags, from different types of lifting straps or baffles to various shapes and sizes, we have them all! With our ongoing Diwali Sale Get maximum Discounts. Buy Today and get 50% off.
If you are looking to know more about jumbo bags offers. Visit, https://www.jumbobagshop.in/