HOLE IN ONE CHALLENGE 2022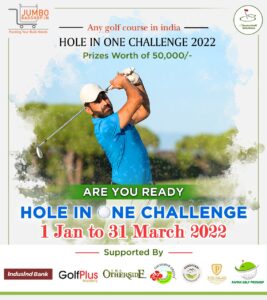 Dear Golfers,
we are glad to invite you to Hole in challenge 2022 Sponsored by
Jumbobagshop.in
Start from 1st Jan to 31st March 2022  PAN INDIA  Any golf course, Any day ,Any Time, Hit your Best Shot to make your dream come true Hole in One.
WIN Prizes worth 50000/- and HOLE IN ONE  trophy.
1st – Gift Voucher worth 25000/- . ( During the golf tournament )
2nd – Gift Voucher worth of 15000/- ( Regular Golf Round )
3rd – Gift Voucher worth of 10000/- ( Regular Golf Round )
-Hole in one trophies.
Registration Fee 699/-
WINN 1 Dzn of golf balls worth of 1500 /- 
Top # Player will get the Prizes 
Free Registration /-
The entire category golfers are invited
 (Pro + Teaching pro + Amateur + Ladies +juniors)
1.TOP 3 WINNER GETS THE PRIZES.
2.Any golf course in INDIA – Any Day – Any Time.
3. The hole in one challenge golfer has to play with one Ball.
4. Following the Tee box as per golf course and Category
5. MEMBERSHIP Fee:-699/- only during golf tournament only.
RECORDING OF SCORES CARDS CLAM THE PRIZE.
1.MANDATORY- to register on HOLE IN ONE CHALLENGE 2022.
2.MANDATORY – to sign the score card from the Marker Caddie and Golf club Management and Group Picture on the spot.
3. If there is a two hole in SAME DAY the prize will goes the 1st Hole in one as per the time and date.(Exp- Player A Get the Hole in one at 8:00 Am on 1st Jan 2022 and Player B Hole in One Timing is 8:01 on same date as per timing Player A will be Winner.
GOOD LUCK – HAPPY GOLFING
Tournament Director
Sunil Kumar
Skumar golf solutions .