Innovative Multi-Speciality Bags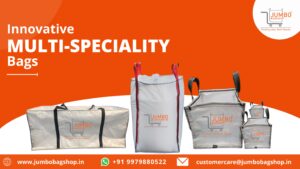 Jumbobagshop provides Speciality bags which are also known as multi-purpose bags. As the name goes, they deliver multiple advantages in terms of packaging solutions. In addition to that, they are available in lots of varieties as listed down below: –
Multi-Purpose Storage FIBC Bags:
At Jumbobagshop, our customers buy these storage bags for all their domestic storage requirements, home shifting purposes, waste collection, and management. We strive to provide 100% recyclable bags thereby stepping a foot forward in being environmentally friendly. Our multi-purpose storage bags are utilised by individuals, societies, construction sites as well as others to handle their products in the form of wood, glass, paper, building materials, etc. We sew durability in our products which is why our FIBC bags perform exceptionally well under a lot of stress as well.
At Jumbobagshop, we sell heavy-duty-based garden bags. Our bags serve the purpose of collecting leaves, garden waste, twigs, small branches, etc, and thereby meet the needs of our customers. The making of these garden bags requires fine quality of polypropylene fabric along with handles. As a result, there are three handles designed for this bag. The two handles on the top serve as apt holding and transporting purposes while one handle at the bottom serves as an apt solution for discharging the contents from the bag. These garden bags are exceptional to use and even after they serve their purpose, they can be stored for future use. As these FIBC bags are UV protected, they are an apt solution for storing household stuff for a longer period of time.
At Jumbobagshop, your Silage bag requirement is only a click away. The green fodder is an ideal nutrient supplier for dairy animals is also known as Silage. This is how this FIBC gets its name as a Silage Bag. Silage bag serves its purpose of keeping the contents fresh inside for as long as 12 months of time. Our expert makers have designed this bag so that it can properly hold the capacity of 500 to 1500kg weight.
We provide doorstep delivery of your bags. Our PP woven shopping bags are consciously ecological. These woven bags deliver an ideal support in carrying day-to-today essentialities. This shopping bag is strong enough to carry 50 kgs of weight in the form of groceries, vegetables, etc. After its usage, these FIBC bags can be easily folded and stored for future requirement as they offer the perk of durability.
The world is advancing at a faster pace. We at Jumbobagshop, constantly deploy modern technologies to provide innovative products thereby exceed our client's needs. To get your best-in-class FIBC bag, shop now at jumbobagshop.in