Why You Should Use Grocery Shopping Bags From Jumbobagshop.in?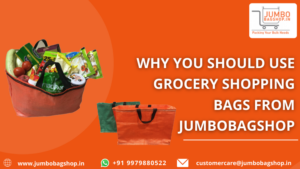 With the eco-friendly movement going strong across the world, consumers are encouraged to carry their own reusable shopping bags to the store. The ban on single-use plastic in many countries is further pushing the use of grocery shopping bags that can be put to use multiple times without the fear of choking marine life or crowding landfills.
PP woven shopping bags for the eco-aware consumers
Polypropylene (PP) woven shopping bags are a more sustainable alternative to single-use plastic bags and offer excellent strength and durability. Their unique construction, which uses polypropylene threads woven in two directions (warp and weft), produces lightweight but strong and heavy-duty bags. As such, these bags lend themselves outstandingly to the purpose of carrying the weight of groceries and daily essentials with absolute ease.
While cotton or canvas bags are other viable options for those wanting to shop the eco-friendly way, PP woven grocery shopping bags from reliable manufacturers like Jumbobagshop.in have an edge over fabric bags.
Unlike woven fabric bags—which tend to fray at the edges if special techniques aren't applied to prevent it—high-quality PP woven shopping bags last longer, are 100% recyclable, and can be used over and over again.
A smaller cousin of the ultra-strong FIBCs
Interestingly, the strength, durability, and damage-resistance of woven PP have been tested and proven by several industries through their use of FIBC bags, also known as Bulk Bags or Jumbo Bags.
Considered a gold standard in packaging solutions, FIBCs are used for the storage and transportation of bulk agricultural goods such as grain, fresh produce, flour, and spices; construction materials such as cement, sand, etc.; chemicals and fertilizers, to name a few.
However, FIBC Bulk Bags are meant for weights as much as 2500 kg, whereas PP woven shopping bags can hold up to 50 kg. In that, these shopping bags can be seen as a smaller relative of the mighty FIBCs.
Additionally, the reusable shopping bags from Jumbobagshop.in are made with high tear and puncture resistance. This means they are unlikely to get damaged when sharp objects like keys press into them. Their handles won't tear off easily and they won't rip holes in the corner like plastic bags. So, the use of reusable grocery bags allows purchases to be carried to and from the store safely, easily, and conveniently.
Buy Shopping Bags Online from Jumbobagshop.in
As a leading manufacturer of PP woven FIBCs, Jumbobagshop.in takes extra care and attention in its manufacturing of shopping bags. Our PP woven bags are made from the finest raw materials and built to last several uses — true to their reusable purpose. This is also why these bags turn out to be an economical choice for consumers. Our shopping bag prices are competitive, which makes for an excellent case of why you should switch to using these eco-friendly shopping bags now!