3 Vital Advantages of Using FIBC Jumbo Bags in Landscaping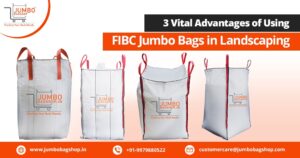 Storing & Transporting Landscaping products & materials is challenging for landscaping companies. To overcome this challenge, FIBC Jumbo Bags play a vital role. FIBC Bags are widely used in numerous industries worldwide by countless companies.
Landscaping businesses can handle & store the landscaping dump in an organized manner with Jumbo FIBC Bags. FIBC Jumbo Bags offer a Safe Working Load (SWL) of 250 to 2,000 kg, so you can efficiently stack heavy loads of landscaping materials & dump them in a single FIBC Bag.
Whether you want to load a dry load of waste or a wet pile of mud, FIBC Bags allow you the flexibility to stack up dry & wet dump both. In this blog, we will walk you through 3 Vital Advantages of using FIBC Jumbo Bags for storing & transporting Landscaping materials.
Vital Advantages of FIBC Jumbo Bags in Landscaping
1. Accurate Delivery
In the Landscaping Business, companies transport landscaping products by truck, which is the most inefficient manner of storing & transporting landscaping materials.
FIBC Jumbo Bags helps properly fill landscaping products to make them look organized and neat for accurate storing & transporting. Dump Trucks are massive, which makes it challenging to dump truckloads of landscaping products.
With FIBC Bags, you can dump landscaping materials in small quantities compared to limited dumping places in truckloads. You can quickly load and dispose of the dump at different locations.
2. Storage of Landscaping Dump
Without FIBC Bags, landscaping dump needs to be stored in dump trucks, which makes it cost-consuming to store them.
By using FIBC Jumbo Bags, you can store landscaping products in a warehouse. You can dispose of them in small quantities, making them the cost-effective packaging & storage solution for landscaping companies.
You can store landscaping dumps in FIBC Bags worry-free, as it won't affect the landscaping products inside from natural contaminants like weather, moisture, water, insects, termites, and more.
Storing Landscaping Dump in FIBC Bags instead of open truckloads will keep the neighborhood areas free from pests and insects, keeping storage areas hygienic.
3. Precise Distribution
Landscaping Dump includes multiple products such as wet mud, compost, topsoil, rocks, debris, and more. FIBC Jumbo Bags offers multi-trip, which means you can use them for multiple purposes and store various landscaping products.
One of the best advantages of FIBC Jumbo Bags is that you can store multiple landscaping dumps without worrying about the bag getting torn because of their 250 to 2,000 kg SWL.
You can opt for FIBC Baffle Bags which allow 30% more storage spacing than other FIBC Jumbo Bags. You can store heavy loads of landscaping materials by utilizing all its corners, and the bag will look neat even after being fully stacked. It will help you save significant transportation costs and time.
Conclusion
After reading the blog, you will have clarity regarding FIBC Jumbo Bags' advantages in the landscaping business. We recommend opting for an open top (duffel top) which will allow you to quickly fill the landscaping products, or a skirt open top so that the materials won't fall outside while filling and can tie them off easily without worrying about products coming out.
At Jumbobagshop, we sell Jumbo FIBC Bags with various open top and bottom options that you can shop online according to your requirements & needs. We sell FIBC Jumbo Baffle Bags for efficient storing of landscaping dumps.
If you have any questions regarding which bag suits your needs, contact us at +91-99798 80522 or email at [email protected].