Buy FIBC Jumbo Bags Online from Jumbobagshop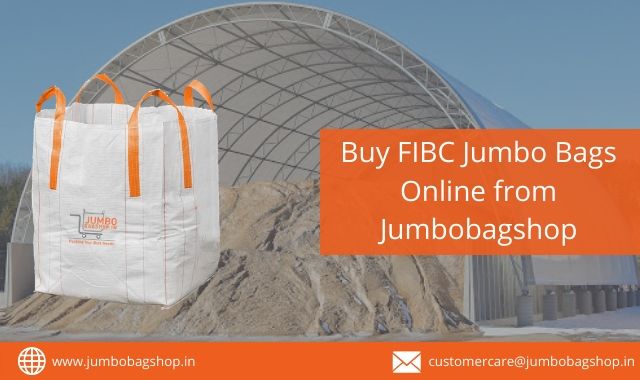 Jumbo Bags Online from Jumbobagshop
FIBC Jumbo Bags are the most cost effective solution for storing and transporting solid dry bulk materials like cement, sand, powders and so on. They are utilized for a range of varied products as they can be customized as per the requirement of the customer. FIBC Jumbo bags are made using Polypropylene which makes it a durable product and secure for transporting goods from 500-2500 kg, over long distances. FIBC Bags are a perfect fit if you want to transport fine grains or powdered products. For load safety considerations, you must select the FIBC Bags based on the size of the products you are storing or transporting.
There are different types of FIBC Bags, all have some different features and applications, the types of bags are explained as under:
Tubular Bags/ Circular Bags are made from Circular Fabric woven on a circular loom. These bags eliminate the vertical seams on each side of the bag and are available in numerous variants. Every circular woven Jumbo bag we produce is made to the most rigorous manufacturing standards while providing superior value to our customers.
U Panel Bags are made using flat fabric produced on circular loom. It consists of two side panels attached to a U shaped single piece of fabric. This was the original FIBC Bag design from which other bag variants have developed. This is a versatile product and is available in custom designs.
4 Panel Bags are made using flat fabric produced on circular loom. It consists of four side panels attached to a Flat Base fabric. These bags have excellent shape retention & stability, allowing for safe transportation of the material inside the bag. We offer cutomised solution to cater to your specific need.
These are essentially 4 Panel Bags with fabric panel sewn across each corner of the bag to improve the bag's shape and prevent it from bulging. These are also known as formstable bags as they save space and are very effective, helpful in case there is limited space in sea-container/ truck.
Produced from single tubular fabric, the 1-and 2- Loop Bags are widely accepted as being more cost effective than the traditional 4- Loop Bags used. Compared to the standard four loop bags, these bags have different construction. The body-fabric of the bag itself is extended into a lifting loop which gives the bag a higher breaking strength and makes the FIBC easier to lift. The loops can be wrapped with coloured sleeves which provides assistance in separating different bags as per their application. An inner liner is usually incorporated to keep the product being carried both clean and dry.
Type C Bags are FIBC Bags made of specially designed Conductive fabrics with interwoven conductive yarns. Conductive bags are provided with grounding tabs, which are to be earthed in order to dissipate the static charge created around the jumbo bag during the filling & discharge operations. These bags can safely carry conductive material, such as flammable powders.
Customers can buy even one Jumbo Bag from our website.
Buy Jumbo Bags at the click of a button on our customer-friendly website.
100% Guarantee on Quality.
Bags manufactured by experiences professions in FIBC industry.
We make your shopping experience more pleasant by delivering bags to your location hassle-free.
Still in making a decision? You can contact us on [email protected] to ask us for any help and we will provide you with the right packaging solution for your product.