5 Reasons to Buy Big Bags Online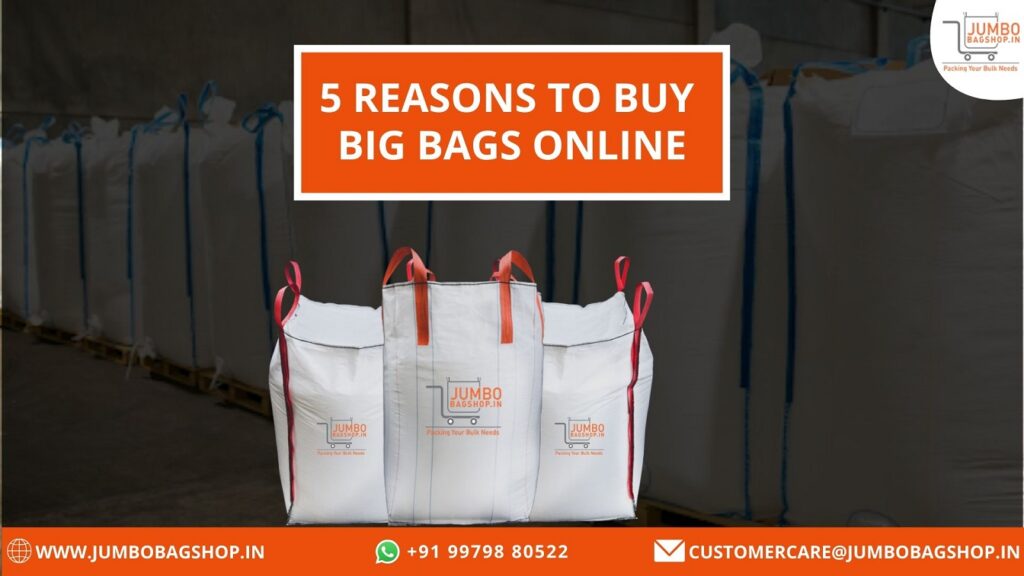 TOP Reasons to Buy Big Bags Online
Flexible Intermediate Bulk Containers (FIBC) Bags or Big Bags are the most popular packaging solutions in the industrial transportation industry. Characterized by special features, these Big Bags fulfill your every special packaging and transportation requirements. Ordering for these are now easy as you can readily buy Big Bags online from the comfort of your home or office.
Purchasing these Jumbo Bags make perfect business sense due to the following reasons.
1. Big Bags are Flexible and Versatile Packaging Solutions
Flexibility is a special feature of these FIBC Big Bags. They offer flexible design options and also come in flexible poly fabrics with different weight and strength parameters. Big Bags carry free-flowing products and materials can accommodate a high working load while keeping their shape and structure after filling.
The wide range of choices in material, shapes, and sizes, filling and discharging options make these bags extremely versatile. You can choose their applications according to your business needs. If you are buying these Big Bags online, any reputed Jumbo Bags manufacturers will tailor-make these for you.
2. Big Bags Can be customized
Big Bags can be customized according to your specific business needs. Depending on what material you are storing or transporting, the bags can be redesigned in different ways to suit your product specifications. For example, the loops on the bags can be customized into various sizes, depending on the dimensions of the bags. You can order these Big Bags Online and also customize them under following heads:
Color
Capacity and size
Bag Type (A, B, C & D)
Food Grade or Non-Food Grade
Filling and discharging features etc.
3. Saves Cost
If you buy Big Bags for your transportation business, you will save costs and space. Big Bags are ideal for bulk transportation of goods as you can transport and store more amounts of materials within a small area. As these keep the products contained and protected, there is no need for secondary containers. These can be stacked up in bales and with hardly any volume of its own, Big Bags saves on usable storage space.
4. Saves Time
Thanks to the revolution that has been brought by these FIBC Bags into the world of packaging solutions, innovative machinery and techniques have been designed to facilitate speedy packaging, filling and discharging using these bags.
5. Optimizes Transportation
FIBC Bags helps in optimum utilization of your transportation cost. It is possible to stack up to one bag over the bottom bag inside a container. With fewer manpower required to handle the Big Bags as compared to the traditional 25/ 50kg sacks, transportation costs come down considerably. Customers often opt to buy Big Bags online whenever space saving is required.
These durable and lightweight polypropylene bags are a step forward in packaging solutions and offer affordability, versatility, and protection to the stored products and are highly customizable to suit every business needs for transportation of bulk goods across many industries.