All About Garden Bags and How to Use them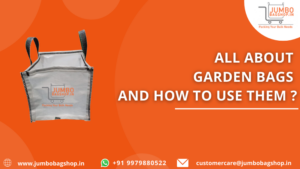 Are you looking for large size bags for your gardening needs? Do you often look around the house for a sturdy hold-all that can fit in all the twigs, weeds, and clippings from your garden to be transported to the compost pile later? FIBC Garden Bags are the perfect solution for you!
FIBC or Flexible Intermediate Bulk Containers, also known as Jumbo Bags, Big Bags, Super Sacks, etc., have a multitude of usage across industries. 
What are 
Garden

 

Bags

?

FIBC Garden Bags are better alternatives to wheeled trash bins that are normally used in gardens. These lightweight, durable bags are built of woven polypropylene (PP) fabric, making them flexible and convenient to handle. The mesh-like structure of the fabric makes storage in garden bags hassle-free and prevents green waste from rotting.
What makes 
Garden

 

Bags

 stand apart?

Once you start using Garden bags, you'll find them to be the most essential object for gardening. These bags can pack in large volumes of both small and big items, and yet are quite manageable owing to the sturdy, reinforced handles that wrap around on all the sides providing extra support. Garden bags have wider openings for easier access than the bulky trash cans traditionally used for the purpose. The weight of garden bags is negligible, but the PP material makes such bags suitable for heavy loads. Garden bags are collapsible too, which allows them to be folded flat when not in use. 
How multipurpose are 
Garden

 

Bags

?

Need a large enough space to stow away excess items? Pull out the spare garden bag. Laundry bag broke? Use the garden bag to dump the dirty linen. Versatile as they are, you can pack in items in garden bags for storage, and carry them around indoors and outdoors, without breaking a sweat. To top it, these bags are very cost-effective, tear-resistant, and recyclable. 

These bags, being lightweight, are extremely easy to move around. You can fill them up with about anything you want as they are engineered for heavy-duty usage. Filling up and emptying is super easy too, given the wide opening of these bags. You can use Garden bags to store almost anything, especially your gardening tools. And of course, to collect your garden trash and move it comfortably to the composting area. Moreover, you can collapse the garden bags and store them away, using very little space.

Did we get your piqued enough to buy garden bags? Easy! Buy garden bags online. You can check out garden bag pricesat Jumbobagshop.in, your one-stop shop to buy garden bags online. With three decades of experience in FIBC products, our garden bags are multipurpose, 100% recyclable, have specifications of 45X45X45 cm (LWH), top-open, flat-bottom, with a Safe Working Load of 50 kg, and Safety Factor of 5:1.