Benefits and Steps of recycling Polypropylene (PP) Jumbo Bags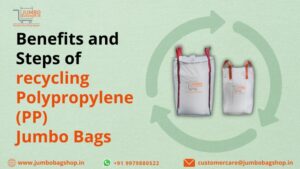 In 2022, over seven billion tonnes of plastic waste was generated worldwide, and only a little close to 10% has been recycled. The number will touch 10 billion tonnes in the next five years. Plastic has several applications, such as bottle caps, straws, carry bags, and more.
In 2022, more than 150,000 plastic bags were being used globally every minute. It's high time we start switching towards eco-friendly bags that could be reused and recycled. The recycling of plastic % needs to touch 20 in the next five years.
You will be delighted to know that at JumboBagShop, we sell eco-friendly Jumbo FIBC Bags and PP Woven Shopping Bags that can be reused and recycled without impacting or harming the environment.
In this blog, we will walk you through the benefits of recycling polypropylene (PP) Bulk & Jumbo Bags and the recycling steps.
Why is it crucial to recycle PP Jumbo FIBC Bags?
Recycling PP Jumbo FIBC Bags is crucial for waste reduction during bag manufacturing and preserving the environment. Today's dependency on plastics for our daily needs has to be considered because of its sustainability aspect.
Plastic Polypropylene is an integral part of our daily routine. If plastic is not disposed of properly, it can have a destructive effect on the environment. Hence, it is vital to recycle plastic and avoid the usage of single-use plastic.
At JumboBagShop, we support the Government of India's initiative to ban single-use plastic. All our Jumbo FIBC Bags are made of virgin PP material and 100% safe, non-toxic, durable, reusable, and recyclable. Our PP Jumbo Bags are the perfect replacement for single-use plastics.
Recycling of Polypropylene FIBC Jumbo & Bulk Bags
The recycling process of PP Jumbo & Bulk Bags is a closed-loop system. The foremost thing that must be checked for this process is to ensure that the FIBC Bag has gone through thorough and intensive cleaning. It needs to be reconditioned properly and fit to be reused to store the products it is specifically designed for.
Let us walk you through the recycling process of Polypropylene FIBC Jumbo & Bulk Bags.
Steps of recycling Polypropylene FIBC Jumbo & Bulk Bags
Step 1: Collecting the bag
The first step involves collecting the bag from the user and sending it to the recycling facility. In the FIBC Jumbo & Bulk Bags scenario, when the quantity is large, the bag collection process is simplified using the Bulk Bag Compactor.
Step 2: Sorting & Cleaning of the Bag
In the 2nd step, the Polypropylene is separated from the mixtures containing plastics and Bag & external contaminants. This step is critical for those bags explicitly used for storing and handling fertilizers, chemicals, and minerals.
Step 3: Shredding
Once the Polypropylene is segregated and the Bag is sorted & cleaned, the plastics are transferred to the shredder based on the original configuration of plastic products and their intended usage.
Step 4: Separation
Based on the attributes – color, shape, and size, the plastics are separated depending upon their upcoming intended usage.
Step 5: Compounding
The final step of the recycling process is more of a mechanical step where the plastics are recombined using an extruder. The extruder melts down the plastic particles and creates plastic pellets. These plastic pellets are used for manufacturing new products (Jumbo FIBC Bags or other items).
How does Polypropylene Bag recycling benefit the environment?
Recycling Polypropylene Jumbo Bags helps in reducing the amount of waste dump deposited in landfills. As mentioned in Step 5 above, Polypropylene Plastic can be used for manufacturing new products after recycling. It reduces plastic generation from scratch, ground pollution, and greenhouse gases released during new plastic generation.
Recycling Polypropylene Jumbo Bags helps conserve natural resources, such as timber and minerals, thereby saving energy.
Conclusion
After going through the blog, you will be clear on the benefits of Recycling Polypropylene Jumbo Bags and the process of recycling. At JumboBagShop, we run the Recycling of Polypropylene Jumbo Bags program.
Visit our website to read more about it and enroll in the Recycling of Polypropylene Jumbo Bags program. For the Industrial recycling of Jumbo Bags, email us at [email protected]. For any general questions regarding our recycling process, raise an enquiry form, and we will contact you.