Benefits of using Baffle Bags at Seed Processing Facilities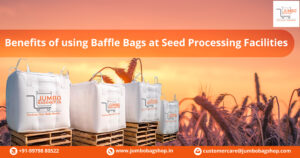 Agriculture Industry is one of the highest contributing sectors to the GDP of any country. Agriculture Industry is one of the heaviest users of FIBC Bulk Bags & Jumbo Bags.
FIBC Bags provide countless application usage to the agriculture industry, including storing & transporting agricultural produce such as grains, rice, crops, beans, barley, and more.
One of the primary application usage of FIBC Bags in the agriculture industry is storing and transporting food-grade products.
A wide variety of FIBC Jumbo Bags are available in the agriculture industry market, such as tubular bags, baffle bags, 4-panel bags, and more. Out of all the FIBC Bags, Baffle FIBC Bag is an ideal option for seed storage.
In this blog, we will walk you through the benefits of Baffle FIBC Bags for seed processing facilities.
What are FIBC Baffle Bags?
FIBC Baffle Bags are usually 4-Panel bags with a fabric panel sewn across each corner of the bag to enhance the bag's shape & prevent it from bulging.
FIBC Baffle Bags are also known as Q FIBC Bags & Formstable bags, as they save space by optimally utilizing each corner of the bag.
Baffle Bags are a cost-effective option for transporting seeds and other food-grade products via sea container or truck. You can easily store from 500 kg to 2000 kg of products.
Benefits of Baffled FIBC Bags in Seed Processing Applications
Seed storage is vital for farmers and must be protected against pests, moisture, heat, and other external natural contaminants during all phases of the planting cycle, storage & transportation. Otherwise, it can lead to massive losses for the farmers and wholesalers if the stock gets damaged.
Baffled FIBC Bags are an ideal fit for protecting seeds from natural contaminants and are flexible for storing & transporting seeds in different weather conditions. You can store seeds for up to a year.
The following are the benefits that FIBC Baffle Bags provide over standard FIBC Bags for seed processing facilities:
Stability
Due to their small size, seeds are prone to shifting inside an FIBC Bulk Bag, which makes the bag unstable and challenging to stand it upright or stack.
Baffle FIBC Jumbo Bags offer excellent support, as they retain the original square shape of the bag when filled to their full capacity with seeds. Baffle Bag's square shape allows easy stacking and offers efficient storage for storing & transporting seeds.
FIBC Baffle Bags allow 30% more storage space per bag than standard FIBC bags because of the uniform material flow to all four corners of the bag.
They help improve stacking in the warehouse and remain within the pallet dimensions when filled.
Strength
The additional support helps Baffled FIBC Bags hold their original shape and keeps pests & other natural elements from damaging the seeds inside the bag.
FIBC Baffled Bags offer a Safe Working Load of 500 kg to 2000 kg and a safety factor of 5:1 & 6:1, making them an excellent option for long-term storage & transportation of seeds.
Conclusion
After reading the blog, you might be considering shifting to FIBC Q Bags/Baffle Bags for seed storage because of their excellent benefits and long-term advantages.
You can buy our Jumbo FIBC Baffle Bags online from our website. At Jumbobagshop, we sell high-quality FIBC Bags manufactured from virgin PP (polypropylene) material. And they are safe, non-toxic, durable, and 100% recyclable. You can use them for storing & transporting other agricultural produce apart from seed storage.
For any questions about our FIBC Baffle Bags, contact us via call at +91-99798 80522 or email at [email protected].