What Are Baffle Bags And Why to Use Them?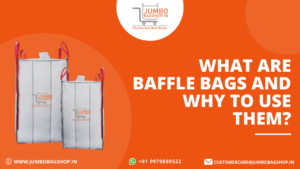 Storage bags play a vital role in efficiently storing products, such as food grains, chemicals, and minerals. However, ordinary storage bags often tend to bulge out at the sides and hinder uniform assemblage. Baffle bags, also known as Q Bags, Baffle Jumbo Bags, Baffle Bulk Bags, and Form-stable Big Bags, are a type of FIBC specifically designed to address this problem. These bags have a unique build that allows easy stacking and transport of goods. In recent years, Baffle Jumbo Bags have gained popularity in several agricultural and industrial sectors.
What is Baffle Bags?
Due to their sturdy cube-like shape, baffle bags can be neatly assembled and safeguard the products from possible damages in case of accidents. Since FIBC Form-Stable Bags have four panels stitched onto their corners they – unlike standard FIBC bags – retain their cubical shape regardless of the dimension of the goods stocked inside them, thereby reducing flexibility, aid in stable stacking, and are relatively easy to transport.
Why Should You Use Baffle Bags?
1. Enhanced Storage Space:
These big bags offer 30% more storage space in comparison with standard FIBC bags. The extra space, in turn, reduces the cost of transport significantly as well. These jumbo bags have consistent material throughout the bag that prevents them from creasing or bulging even when they are filled to their maximum capacity.
2. Secured Storage:
With Baffle Bags you can be assured of the safety of your stockpile. They have the competence to hold goods weighing from 500kg to 2,000kg. These bags are strong and durable; thus, they can withstand external pressure without leading to spillage or destruction of the material inside them.
3. Aesthetic appeal:
A neat and uncluttered warehouse is ideal for easy and proper management of inventory. These Form-Stable Big Bags have inseams of extra fabric called 'baffles' that keep the bags in their cubical shape. This makes it convenient to load and unload goods from cargo vessels and storage tanks as well.
4. Versatility:
These bulk bags come in two varieties – coated and uncoated. The coated bags have an extra layer to prohibit air passage. This makes it appropriate for storing commodities, such as, crops that can spoil with exposure to air. The uncoated bags allow free-flow of air and are perfect for merchandise, like, sand and gravel that are best stored with ample air circulation.
5. UN Certified:
Form-stable Big Bags from Jumbobagshop.in can also be supplied with the option of UN- certified FIBC bags. These bags are specially designed to contain hazardous material and are tested at the external laboratory for approval of the bag quality. These bags bear the UN logo and have a UN code that provides intricate details about the contents of the bags.
Buy the Best Baffle Bags Online
Jumbobagshop.in is dedicated to providing quality products and services to all its customers. With a valuable experience of over 30 years, we have a rich and all-encompassing portfolio of the wide spectrum of different best-in-class FIBCs.
Devoted to innovation, the firm is deeply engaged in providing packaging solutions that directly satisfy the needs of its customers. Since, Jumbobagshop.in greatly honors customer service and trust, high quality and durable baffle bags are only a click away from being delivered to your doorstep.
You may also like to read:
A Mini Guide to Woven Polypropylene Bags