Some Facts About FIBC Jumbo Bags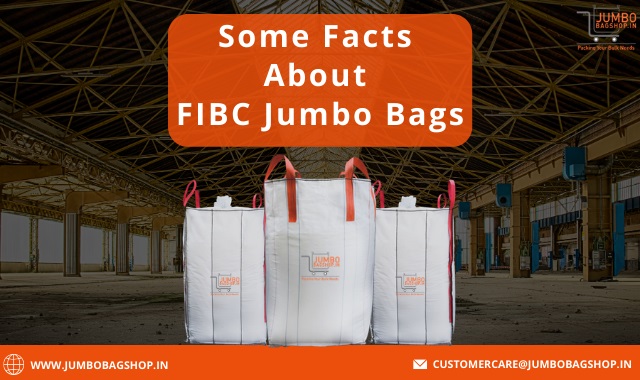 Facts About FIBC Jumbo Bags
If your business deals with storing and transporting material in large quantities, you've probably heard about Jumbo Bags or Flexible Intermediate Bulk Containers (FIBC) Bags. In this article, we'll talk about some basic facts about FIBC Jumbo Bags or Bulk Bags.
FIBC Bags Have Become an Industry Standard
These bags made from Polypropylene are a step forward in packaging solutions over traditional packaging methods. As such these Bulk Bags have become the popular choice as cost-effective and custom packaging solutionsacross industries around the world.
FIBC Bags Can be Customised
Strong as they are, the most important advantage of these Jumbo Bags is that these bags can be customised according to your specific business needs. Depending on what material you are storing or transporting, the bags can be tailor made to suit your product specifications. The loops on the bags can be customised into various sizes, depending on the dimensions of the bags and according to your requirements.  You can order these Big Bags Online and also customise them under following heads:
Colour

Capacity and size

Bag Type (A, B, C & D)

Food Grade or Non-Food Grade

Filling and discharging features, etc.
They Reduce Hazards in Packaging Solutions
Jumbo Bags come with static control attribute, making these ideal for storing and transporting certain critical products like flammable items or products that are prone to static charges which can build up to cause explosions. Resistant to sparks and static, these bags make the stacking, storing, transporting and lifting of petroleum products and other flammable products considerably safe and less hazardous. The anti-static characteristics of FIBC bags make transportation of a range of flammable products safe.
Provides Versatility to Packaging Solutions
A varied range of products can be stored and transported in these bags. Known to maintain quality and stability of agricultural products and other food grade products including dairy, meat and farm products, these Bulk Bags are the preferred choice for transportation of plastic and metal and mining products too. Garden Bags are a category of FIBC Bags that are generally used in bag gardening and are often UV treated. These bags offer versatility in terms of their sizes and special designs for discharge spouts and filling options.
Packaging Solutions That Are Eco-Friendly
Made from virgin polypropylene these bags can not only be reused, they can also be recycled to other plastic products, making them an environment friendly and giving them a competitive edge over the other traditional packaging solutions. Due to their recyclability, FIBC Bags are used as Reusable Shopping Bags to dislodge the use of plastic bags.
FIBC Bags provide businesses with customizable industrial packaging solutions. These cost effective and eco-friendly bags offer a super range of versatility and have become the prime choice across industries that deal with storing, stacking or transportation of a variety of products in huge bulks.