Do's & Don'ts of Safe Handling of FIBC Jumbo Bags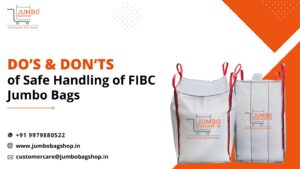 Jumbo Bags are a phenomenal innovation of mankind for packaging & storing products & materials. Jumbobagshop sells the best Jumbo Bags in the Indian Market.
Our FIBC Jumbo Bags are ideal for storing, handling, and transporting Dry Solid Bulk Materials like fine powders, chemicals, fertilizers, minerals, cement, sugar, grains, building materials, etc. We have a wide range of FIBC Jumbo Bags that you can shop & buy online.
Some guidelines must be followed to safely handle FIBC Jumbo Bags to avoid any risk. Let us walk you through the dos & don'ts for the Safe handling of FIBC Jumbo Bags.
Do's for Safe Handling of FIBC Jumbo Bags
Ensure that all forklift tines, crane hooks, bars, or other handling devices are free of sharp & pointed edges.
Ensure that the edges are rounded & the radius must not be below 5mm.
Ensure that all the lift loops are vertical by adjusting the distance between forklift tines to the correct width to prevent damage from lateral forces.
Ensure a clear line of sight while moving a Jumbo Bag.
Ensure to hold the Jumbo Bag close to the foremast of the forklift & keep it at an appropriate lowest distance from the ground.
Make the personnel safely clear regarding potential hazards
Make use of all lift loops for perfecting the FIBC Jumbo Bag so that it doesn't tip over
For the accurate & precise stacking of FIBC Jumbo Bags, use the "Pyramid" or "Supported" Stacking Method.
Keep your FIBC Jumbo Bags away from direct sunlight.
Following are the Do's for FIBC Jumbo Bags with liners:
For easy filling, ensure to pre-inflate the liner before the Filling process.
Ensure to extend liners past the fill spout or duffel during the Filling process.
During discharging, ensure that the liners are correctly attached inside the Bag to prevent them from pulling out.
Follow the manufacturer's manual book instructions for tying off the liner within the fill spout or duffel.
Don'ts for Safe Handling of FIBC Jumbo Bags
Don't suspend FIBC Bag using fewer lift loops or sleeves. Make use of all lift loops.
Don't gather loops to lift with one hook. Make use of all the loops and then lift the Bag.
Don't draw out the forklift tines without withdrawing all load from the loops or sleeves.
Don't permit personnel to stand or place any adjunct under a suspending FIBC Jumbo Bag.
Don't drag or push FIBC Bag to sudden lifts or stops.
Don't exceed the prescribed Safe Working Load (SWL) of the FIBC Jumbo Bag.
Don't fill the Bag with combustible materials if the Bag can't dissipate static charges.
Don't fill & empty Type C/Conductive FIBC Bags in the combustible materials environment. Ensure to establish a secured ground connection.
Don't try to reconnect a detached ground cable to a Type C/Conductive FIBC Jumbo Bag after the process of filling or emptying the Bag has started.
Don't move the FIBC Bags if your line of sight is blocked.
Don't try to tilt the forklift foremast while handling FIBC Bags.
Don't repair a damaged FIBC Bag without removing all FIBC Bags stacked on top.
Don't leave the FIBC Jumbo Bag directly exposed to sunlight for extended periods.
Conclusion:
Contact us if you have any questions regarding the safety guidelines for FIBC Jumbo Bags, and one of our specialists will contact you. You can reach out to us via call at +91-99798 80522 or email at [email protected]. You can shop & buy our FIBC Jumbo Bags online on our website.