How Do Conductive Type C Bags Work ?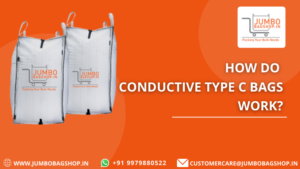 Bulk Bags, also known as Flexible Intermediate Bulk Containers (FIBC) or simply, Jumbo Bags are a preferred choice for most industries where there's a need for storing and transporting dry, flowable goods in large quantities.
These FIBC Bulk Bags come in a variety of designs and specifications, which make them fully customizable for a broad range of applications. One of the many FIBC Bag variants is the Type C Bag (also referred to as Conductive Jumbo Bags or Groundable FIBCs). In this article, we'll cover what they are, their applications, and how they work.
What are Type C Bags?
Type C FIBCs belong to the class of FIBCs that safeguard against hazardous static discharges by grounding the bag while filling. Such electric discharges can ignite and cause disasters in the presence of highly inflammable materials. Type C FIBC bags are safe because whatever electrostatic charges build up while rapidly filling, safely exit the bag when grounded, through the conductive fibers of the bag. However, this applies so long as the bag stays grounded.
When to use Type C Bags?
As long as the bags remain grounded while filling and discharging materials, Type C FIBC or Conductive Jumbo Bags can be a very effective means against inflammable electrical discharges. Not grounding the bag due to any reason during either filling or discharging can create a hazardous situation. Therefore a lot of care needs to be taken while operating with these FIBCs to make sure that the grounding of the bags is always maintained.
Conductive Jumbo Bags can be used in almost any ignitable or combustible environment containing very low minimum ignition energies when used in the right manner. Nevertheless, it is highly recommended that you consult an expert to ascertain the type of materials to be used for packaging considering the environment.
The Working mechanism of Type C Bags
Type C FIBC Conductive Bags are manufactured using fabrics with conductive carbon, silver, or steel threads weaved into the bags closely, creating a Faraday cage. Hence upon connecting one part of the bag to a grounding cable, or any other grounded conductor for that matter, the entire FIBC gets grounded safely.
Although all of the loaded material doesn't come in contact with the conductive threads, the threads are spaced in such a manner that any charge that develops is drawn towards the grounded threads, thereby neutralizing the charge. Once the bag is grounded, it is unable to contain any more static charge to ignite flammable material. Even though these Groundable FIBCs need to be used with a great deal of caution and care, they are very effective in preventing accidents due to static discharge.
Buy Type C Bags online from India's leading FIBC manufacturer
With unmatched expertise spanning over three decades in the bulk packaging industry, Jumbobagshop.in provides quality, safe, and cost-effective FIBC solutions. We combine our in-depth product knowledge, well-stocked inventory, and competitive Conductive Bags Prices to provide you with FIBC products that meet your exact requirements.
When you shop online with us, our helpful and knowledgeable FIBC experts go above and beyond to help you make the right choice. That's because we are deeply engaged in ensuring that every customer leaves happier than they come.
Choose Jumbobagshop.in to buy type C Bags online and experience our seamless customer service and no-hassles delivery!
You may like to read :