Reasons to Buy Big Bags Online for Your Agricultural Products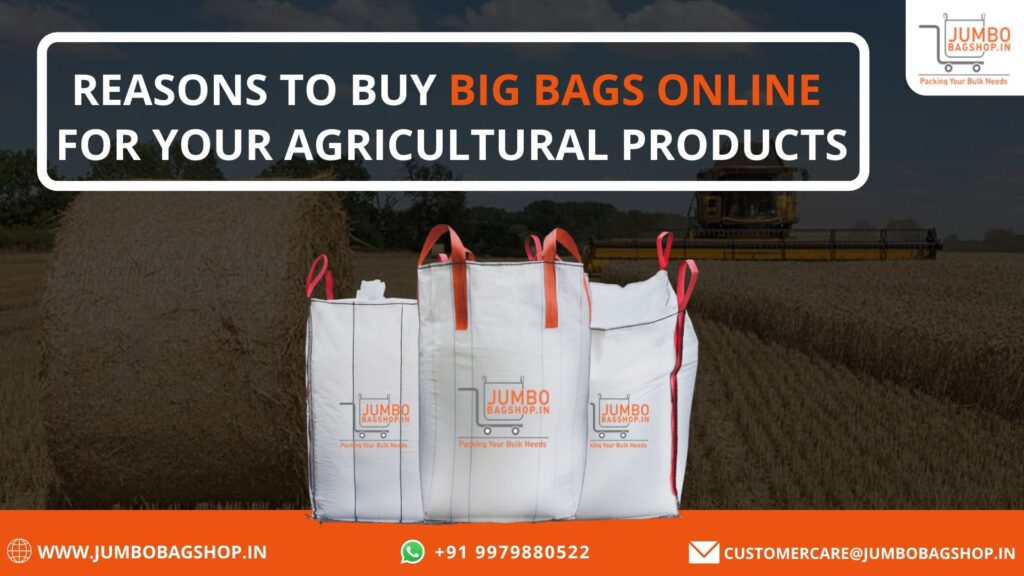 Why Choose Big Bags for Your Agricultural Products
Modern and modified Big Bags offer prime packaging solutions for those in the transportation business of agricultural products. These Big Bags are widely looked upon as a safe and hassle-free means of storing and transporting agricultural products. With their rising and widespread popularity, these bags are now easily available and you can conveniently buy one of these Big Bags online.
As these are bio-degradable and can get easily contaminated, transporting food grains, seeds, etc. and other agricultural products in Big Bags solve a number of problems that businesses may face. Let us explore a few of the important advantages that these bags bring to the table.
Moisture Proof
Water in any form, like moisture can prove to be fatal for food grains and other agricultural products and can result in moulding and eventual loss of your products.
Big Bags made from polypropylene – a thermoplastic polymer – offer you utmost protection from moisture and moulding problems for your food grade products. You can buy coated Big
Bags to give extra protection to your products. At Jumbobagshop.in, we offer to custom-make your Big Bags in a way that it provides optimal protection to your grains and seeds.
Customisable Filling and Discharging Features
Big Bags come with a range of filling and discharging options like Spout, Skirt, Flap etc. In a nutshell, these bags are highly customisable and can be tailor made according to the nature of your products. Many reputed Big Bags manufacturers like Jumbobagshop.in have made their products available over the internet and offer customized services to their clients online. You can order your set of customised Big Bags online easily from reliable and experienced manufacturers.
Protection from Pests
Big Bags do not only offer protection from moisture but also from pests and insects. Infestations of rodents and other pests can prove fatal for your products with very harmful consequences. Big Bags that are made from woven polypropylene are too hard for rodents to chew through or for other insects to enter the bags. These bags are also sealed off entirely from the top adding to the protection of your grains and preventing the entry of harmful pests.
Optimal Utilization of Space
Finding enough space to store your products, especially during harvest time, can pose to be a challenge. Big Bags are stackable and can be safely piled on top of each other to make maximum utilization of space.
Low maintenance Big Bags have proven benefits over traditional metal containers for transporting agri-based products. Buy Big Bags online at a reasonable cost for practical packaging solutions for your agricultural products.