Top 5 Advantages of Using PP Woven Reusable Shopping Bags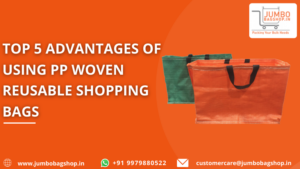 The use of Polypropylene (PP) woven bags is widespread as industrial packaging solutions across agriculture, mining, food, construction, and other commercial sectors. 
The popularity of these bags is due to their lightweight, flexibility, strength, and durability of the material polypropylene. The material is a thermoplastic resin produced by polymerizing propylene. The polymerization process makes it tough, heat-resistant, and chemical-resistant. All these features make PP woven bags a wonderful candidate for creating reusable packaging solutions, such as reusable shopping bags. The fact that these bags can be reused on multiple occasions and thereafter recycled or repurposed into other products makes them an eco-friendly choice as well. 
Let us check out the top advantages of using PP Woven Reusable Shopping Bags.
1.    Eco-friendly
PP woven reusable bags have a very long life & can be 100% recycled. This makes this bag Eco-friendly. As such, these bags leave a lower carbon footprint in comparison to other plastic materials. Moreover, PP woven bags are non-toxic, as these do not generate toxic fumes at the time of recycling.
2. Light-weight and durable
An FIBC big bag used to store one metric ton of product can weigh anywhere from 5 to 7 pounds only, featuring an incredibly low package to product weight ratio. The same principle applies to PP woven bags too, since the basic fabric is the same in both cases. Moreover, these bags are UV protected and are have high mechanical strength and elongation which protects it from normal wear and tear. As a result, PP woven bags can be used for numerous shopping trips, over and over again. 
3. Low thermal conductivity
Owing to the heat-resistant feature of polypropylene, reusable shopping bags have very low thermal conductivity. Although combustible, these bags are not highly inflammable. In fact, with the application of certain additives, polypropylene can become a fire-retardant.
4. Low Cost 
As the production of polypropylene and thereafter the weaving of the fabric require very few resources including energy, the production cost of the bags goes down considerably. As such, procuring PP woven reusable shopping bags can be a cost-effective option for the packaging needs of your business.
5. Easy branding 
For businesses such as retail stores, PP woven reusable shopping bags are an easy branding opportunity that is also environmentally sustainable. The fabric is suitable for printing purposes. Widely reused and recycled, these bags will carry your business's branding as long as it is used in its original form, increasing the visibility and reach of your brand. 
When PP woven bags carry such irrefutable benefits, it is but irresistible to use them as a commercial packaging solution. JumboBagShop.in has introduced large size eco-friendly shopping bags that can carry up to 50 kg. You can now buy reusable shopping bags online and your order will be delivered to your doorstep in no time at all.
You may also like to read:
Why You Should Use Grocery Shopping Bags From Jumbobagshop.in?