Top Reasons to Use FIBC Silage Bags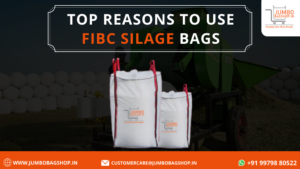 Silo bags or FIBC silage bags have been used for decades throughout the agricultural world for storing green fodder for cattle, grain commodities such as corn, wheat, barley, soybeans, and sunflower seeds. They are the best option in grain storage, with their ability to make sure that the grains thus stored are neither damaged nor wasted.
Silage bags were initially developed to allow the farmer to preserve and maintain animal feed or forage. Forage is the most economical source of food for livestock but it isn't available year-round. Silage bags were the solution for forage conservation at a low cost during the critical period of the year. Soon, these bags were referred to as grain bags as they were ideally suited for the purpose of medium-scale storage of grains. In India, this bag finds tremendous application in the Dairy Industry where Green Fodder is cut and preserved in Silage Bags (in the monsoon season) to be used throughout the year. This has resulted in improved health and milk output of the cattle.
What are the silage bags?
Silage bags are primarily FIBC Bags with Skirt at Top, Flat Bottom, and loosely inserted liner (50-60 microns). The outer bag is made using Polypropylene Fabric & is UV Protected. The inner layer of Liner helps keep out the moisture and assists in anaerobic decomposition of the fodder. Green Fodder is chopped into small pieces and tightly packed in Silage Bags. Once properly filled and closed, silage bags are waterproof and prevent air from entering the bag. The placement of silage bags is therefore very critical as it has to be saved from any kind of puncture. Even a small hole or leak can compromise the benefits of silage bags by letting in air, moisture, or vermin. They need to be located on a firm, level, and well-drained ground.
Here are some top reasons to use FIBC silage bags:
1. The primary reason to use silage bags is that it reduces the exposure to oxygen for grains. This saves from surface spoilage, shrink-loss, etc.
2. The technology of silage jumbo bag allows a white outside layer which reflects most of the solar radiation, and an inside liner which prevents moisture from entering.
3. It has very low oxygen permeability and is an excellent barrier to water and air, aerobic bacteria, mould, and insects.
4. When you buy silage bags you are opting for one of the most cost-effective alternatives available since its manufacturing is relatively easy and does not require a large infrastructure or high costs.
5. They further reduce expenses compared to other storage options such as steel bins, etc.
6. Silage jumbo bags are flexible. They simplify harvest logistics by providing temporary storage solutions at a suitable location without the necessity of permanent storage.
7. Silage bags have low or nil risk of fire and do not suffer variations due to climatic changes.
8. On-farm segregation of the commodities is easier when you use silage bags. It offers a suitable option for preserving the identity of some of the specialty grains.
The above reasons are compelling enough to drive home the fact that silage bags are immensely beneficial for storage use.
The principle question is—what are the biggest disadvantages farmers face in the path of making their business more profitable?
Spoiling
Wastage
Quick storage solutions
Capital investment
All these disadvantages can be taken care of through the use of FIBC silage jumbo bags. From grains to forage, fruits, food products and even fertilizers, cement, carbon black, wood chips, sawdust, and many more, the benefits of silage bags are well-known across industries due to its wide array of applications.
Buy the best silage bags online
Our conviction about the suitability of silage bags also mirrors our premier portfolio available in all categories. An experience spanning three decades allows us to create new and innovative packaging solutions that can be customized according to unique specifications. At Jumbobagshop.in, we proudly boast of reliability in delivery and reasonable silage bags prices.
Silo bags can be used as an effective temporary storage option for grain stored. There are several options in the market, but when you buy silage bags online focus on the technology involved in the manufacturing of silage bags. All our inventories are at par with the highest quality standards. When you buy from Jumbobagshop.in, you are a hundred percent sure of the satisfaction from the use of the silage bags from us.