Why are FIBC Jumbo Bags ideal for storing & transporting Firewood?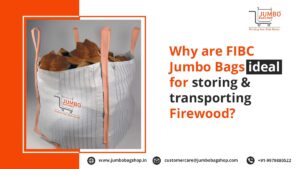 FIBC Bags application usage has been widely appreciated in countless industries worldwide. The firewood industry is also using FIBC Bags for storing & transporting firewood. The firewood has sharp edges and rough surfaces, and it is vital to use a proper packaging solution.
FIBC Bags' fantastic features & benefits suit perfectly for the firewood industry through proper handling & storage of firewood. FIBC Bags' robust fabric and excellent durable properties make them a suitable packaging solution for handling, storing, and transporting firewood.
In this blog, we will walk you through why FIBC Bags are ideal for storing & transporting firewood.
FIBC Bags for Firewoods
Seasoning is a critical process for burning firewood. It is crucial to keep firewood in a controlled environment at a specific temperature, away from the ground. FIBC Jumbo Bags helps keep the firewood secured and adequately moist by protecting them from external natural contaminants such as water, termites, and insects.
You can ask your FIBC Manufacturer to provide heat-treated wood pallets to keep the bags away from the ground and protected from natural contaminants.
Benefits of FIBC Jumbo Bags usage for Firewoods
Storing & Transporting fresh firewood in a durable packaging
Can be used for multi-trip with 6:1 Multi-trip FIBC Bags and for multi-purposes
Lifting the bags with all four (available) loops for safe & easy lifting
Neat appearance packaging solution even after loading the bag to its full capacity.
Customized packaging with the name, logo, and color of your business (brand)
Sustainable, environment-friendly manufacturing and can be recycled
Adequate Ventilation by allowing passage of required moisture and air to keep the firewood dry & fresh
Robust strength and won't get torn or damaged because of 500 to 2,000 kg of Safe Working Load (SWL)
Cost-efficient as you don't have to purchase multiple bags as one bag can stack a high load of firewood of up to 2,000 SWL (as per manufacturer's bag guidelines)
Read more about: How to Choose the Right FIBC Bag for Your Business?
Things to consider for Firewood FIBC Jumbo Bags
It is vital to consider certain important factors for your Firewood FIBC Jumbo Bags. The following are the three things that you must consider carefully:
Do you have a forklift for lifting FIBC Bags safely and efficiently by all loops?
Under what temperature & environment will you be using FIBC Bags?
Will you be storing FIBC Bags in a small or large warehouse?
Note: If you have a small warehouse, we recommend buying FIBC Baffle/Q Bags as they retain their original shape & look neat after being stacked to their full capacity, and allow you to store more firewood by efficiently utilizing all its corners.
Note: Keep your FIBC Jumbo Bags away from direct sunlight as it will not make your firewood dry & damage but also affect bag quality.
Conclusion
After reading the blog, you will have clarity regarding FIBC Jumbo Bags' benefits for the firewood industry and things to consider for storing & handling firewood in FIBC Jumbo Bags. However, if you have any questions, feel free to contact us.
At Jumbobagshop, we sell FIBC Jumbo Bags that can be recycled through our recycling program. We sell FIBC Jumbo Baffle Bags that are ideal for storing & transporting firewood.
You can order heat-treated wood pallets from us to keep your Jumbo FIBC Bags away from the ground and keep firewood secured from insects & termites. For any questions regarding our FIBC Jumbo Bags, recycling program, and ordering heat-treated wood pallets, contact us at +91-99798 80522 or email at [email protected].