How to Choose the Right FIBC Bag for Your Business?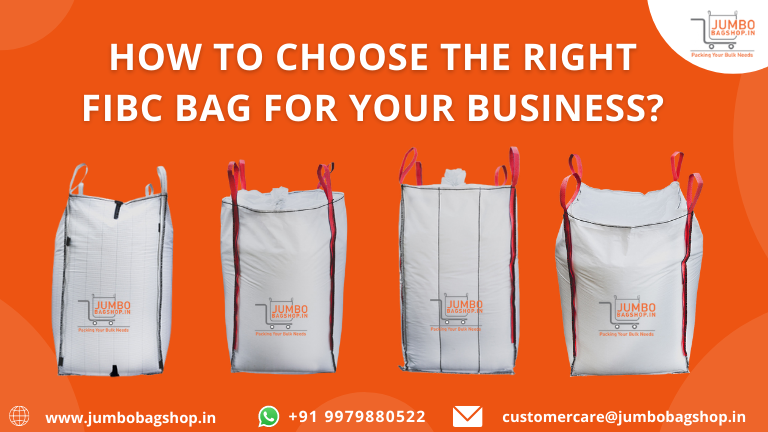 FIBC bulk bags have many variations and advantages to suit different applications covering industries like agriculture, building and construction, chemical manufacturing, civil engineering, and food and beverage production. The nature of your products, and the methods of storage and transport will ultimately determine the FIBC bag you should use.
Why it's important to pick the right FIBC bag
An uninformed choice of FIBC bag can lead to financial loss and physical danger. You wouldn't want to use a non-coated bulk bag for wet materials, or a non-baffled bag for sand, or a non-antistatic bulk bag for flammable materials.
For instance, construction companies need to transport a variety of products from cement to asphalt chunks. The versatility required to handle them with ease and confidence is provided by different types of FIBC bags. Choosing the correct specification of FIBC bag ensures you get the best performance through a convenient and economical process.
Deciding which FIBC is the right one for your business
FIBC bags vary in size, construction style, the materials they contain including lining and coating, filling and discharge mechanism, and the purposes they are best suited for.
Let's take a look at the critical factors that should guide your choice of the right FIBC:
Size:
An impressive range of sizes exist in bulk bags. This should be determined based on:
The weight of the material to find the correct safe working load or SWL
The correct density value to decide the correct size of the bag required by volume.
The size of the pallets because bags should fit neatly onto them without any over-hang or unused space.
Construction: 
FIBC Jumbo bags have different construction styles — such as baffled, duffle top, open top, and spout top — to match the unique filling, storage and transportation requirements of different materials across industries.
Material:
The types of material used indicate the bags' physical properties and their protection against dangers. They come with various lining and coating materials. Woven polypropylene, calcium carbonate and a UV additive for outdoor protection; anti-spark thin coating; carbon filaments to protect flammable products; antistatic materials to protect against electrostatic shocks without requiring grounding.
Choose the right distributor for quality assurance
If you want your FIBC bulk bags to give the best results for your business, choose the best bulk bag suppliers. At Jumbobagshop, we accurately determine specifications and features which will work best for your products. Be assured of the best quality of appropriate, durable, dependable, and safe bags when you partner with us.