Why Buy PP Woven Grocery Shopping Bags Online in India?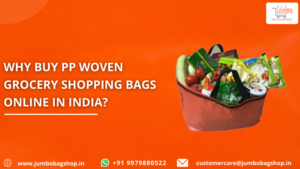 Polypropylene aka PP polymer is a resilient material to build bags that stand the test of time. Thin strands of PP when interwoven, create a sturdy mesh that can be moulded into any shape or form, including grocery shopping bags. While cloth and plastic bags have traditionally been used in the country, why should you look at PP woven big shopper bags online?
By the time you finish reading this, you will have a fair idea.
They are Cost-effective
The material is synthetically produced through propylene, a readily available, naturally occurring gas. Since it is recyclable and widely used, it is highly cost-effective, especially when compared to other plastics in the market.
When you compare standard plastic bags to PP, you would find that buying grocery shopping bags online in bulk is a no-brainer!
They are Built to Last
The compound is highly durable even in its basic form. Add to that, a network on intertwined fabric and you have an even load distribution that makes it super powerful. Not just that, grocery bags made from this material are flexible to the tee and do not tear easily.
There are even more advantages that make PP ideal for making grocery shopping bags.
Water-resistant and dry easily
Unlike other alternatives, these bags are reusable
Stronger than cloth bags for grocery shopping
Retain size and shape even after repeated usage
Can carry in bulk
Lightweight and easy to carry
They are Eco-friendly
PP bags are far safer for the environment than single-use and other plastics, thus meeting the ecological safety regulations in most regions. Unlike plastic bags, these are non-toxic and easily recyclable.
Jumbo Bag Shop is India's leading PP bags manufacturing company that serves a large list of prestigious clientele. With over 3 decades of experience in the industry, we have delivered exceptional quality products for our clients not just in India, but across the globe!
Click here to get in touch with us for your any requirements related to PP Woven Shopping Bags.