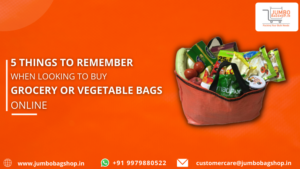 Reusable shopping bags have become incredibly popular as replacements for plastic or paper bags. Why? These are strong, durable, don't harm the environment, and don't need to be discarded after every use. Woven polypropylene bags or PP woven shopping bags are currently among the best-selling reusable carrier bags for daily use. Whether to fit your grocery essentials, vegetables or other items, there's no better choice than our eco-friendly, large PP Woven Shopping Bags.
Here, at Jumbobagshop.in you can find a great selection of high-quality shopping bags online for all your shopping needs—at the shopping mall, supermarket, stationary shop, or simple grocery shop.
But what should you look for when buying an online shopping bag? There are several factors to consider when choosing the right bag to suit your needs.
Here are five things to remember while buying shopping bags online in India.
Sustainability
Sustainability will play a part in your final decision when choosing a shopping bag for life. Reject plastic and make sustainable choices to reduce your ecological footprint.
PP Woven bags or woven polypropylene bags are super-strong and durable bags widely used to pack heavy goods and bulky household items including groceries, vegetables, and other daily essentials. Long-lasting and reusable, these bags last for years.
Polypropylene is a thermoplastic additive polymer, which is heat resistant, non-toxic, durable, and strong. Hence, it makes for excellent construction material for heavy-duty packaging bags for a wide variety of consumer products.
Key advantages of PP Woven Shopping Bags:
100% reusable
Waterproof
Durable
Puncture resistant
Wipe clean
Sustainable
Material
Many new environment-friendly materials are being used as material for shopping bags. When buying an online shopping bag, make sure the material does not get contaminated after multiple uses. Therefore, it's best to opt for washable bags.
Size
You really need to pay attention to the size of the shopping bag that would fit your purpose. Whether you're looking for grocery tote bags or bags that'll fit something specific, there are various size options and dimensions to choose from while shopping bags online.
We have large multipurpose shopping bags that can hold weight up to 50kgs.
Budget
Before you buy shopping bags online, make sure the price fits your budget. PP woven shopping bags are economical in price compared to other options in the market.
Features
Take a closer look at features like the handles of the bag. Make sure the handles are strong enough to carry a tough load, yet they should be light on the fingers. Check if the bag is foldable, has adequate waterproof lining, and is tear and puncture-resistant.
If you need more assistance in choosing the right kind of grocery bag for your shopping needs, we're here to help you. Contact us at Jumbobagshop.in today to buy Shopping Bags online that fit your requirements.
You may also like to read: