How Important Are Silage Bags?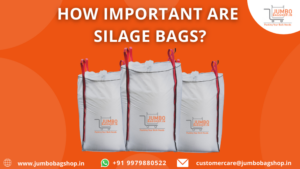 India ranks first among the milk-producing nations in the world. But reports show that the average dairy output per cattle in the country is about 50% lower than the world average. According to the Ministry of Animal Husbandry, there is a substantial shortage of green fodder in the country. To overcome this deficit, it is necessary to develop good quality silage feed that boosts the milk output of cattle. This is where the importance of bagged silage comes in.
Farmers and dairy industries across India are increasingly relying on silage bags for preserving animal feed effectively at a low cost. Why? Bagged silage helps preserve the nutrient content of green fodder for 6-12 months. FIBC Silage Bags or Silage Jumbo Bags are designed specifically for this purpose.
What is Silage?
Silage, also known as Green Fodder Pickle, is fermented, nutrient-rich cattle-fodder preserved for feeding animals during dry seasons.
Nutritious crops like Jowar, Maize, Bajra (crops containing more than 17% carbohydrates) are chopped and packed into Bags. The crops then go through the fermentation process and get converted into nutritious silage. The fermentation is critical in turning fresh crop into good-quality silage. FIBC Silage Bags by trusted package partners like Jumbobagshop.in are virtually airtight, providing an ideal oxygen-free environment to aid the fermentation.
Silage, thus prepared, retains its nutrient content for 12 months and can be preserved as green fodder throughout the year.
So, it makes sense to buy silage bags of the best quality to store green fodder for it to become an easily digestible and highly nutritious feed for your cattle.
The Benefits of Bagging Silage in Jumbo Bags
Jumbo Silage Bags offer a series of advantages like:
Retains feed quality. Silage bags retain almost all nutritional elements of silage feed for up to 12 months from storage.
Green fodder available throughout the year. Silage bags ensure green fodder is available for cattle throughout the year which leads to increased productivity of cattle. These can serve as feed reserves to be utilized during feed deficiency, like during dry season.
Cost-effective. Silage bags Prices are considerably less compared to Concrete silos or other silage systems.
Less storage space. Since there's no air affecting the silage stored in bags, if you store 1000kg of silage, you'll get almost 1000kg output. If you buy silage bags online, you'll get definite advantages compared to traditional storage systems.
Versatility. Silage Jumbo Bags are available to store large volumes of cattle feed. At Jumbobagshop.in, we have silage bags with carrying capacities from 500 to 1500 kg. Plus, there's no limit to the number of bags that you can fill or what you can fill in them.
Durability. Silage bags are tough and durable with high tear and puncture resistance. They can be stacked and reused, which makes them a convenient, reliable, and economical choice.
Looking for your options to buy silage bags online? Visit Jumbobagshop.in to place your order today!