How Tubular FIBC bags' design makes them smarter choice for suppliers ?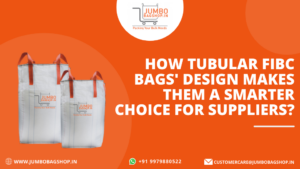 Storage is simple but efficient storage is challenging. Selecting the correct storage containers can often be a hit-and-miss situation, along with being a costly affair. Fortunately, our modern-day problems now have modern-day solutions as FIBC Tubular Bags are quickly grasping the attention of several sectors that require bulk storage. The convenience offered by these Circular Bags has been appreciated by multiple industries & sectors.
 What are Tubular Bags?
Tubular Bags or Circular Jumbo Bags are FIBC Bags made using tubular fabric, in the shape of a cylinder. The two ends of the bags can be sealed by stitching the ends close; however, flat pieces of fabric are also stitched onto the sides to give them a better shape. Tubular Bags facilitate the flat storage of items. They are also an excellent option for storing sifted or fine substances. These bags retain their shape — with minimal bulging — even when they are filled to their full capacity. This makes it easier to stack and store them. The growing popularity of these bags is justified by the vast array of benefits that they provide to their users.
Advantages of Tubular Bags
1.   Cost-Effective:
FIBC Tubular Bags are significantly cheaper than baffle bags but can deliver similar results. These bags can efficiently transport up to 2,000kg of products in a single bag, consequently reducing the cost of storage and transport of goods by a wide margin. Also, the cost of producing Tubular Bags is considerably less, which ultimately makes it an inexpensive yet powerful storage option.
2.   Safety: 
Tubular Bags are extremely safe for carrying a wide variety of products ranging from industrial material to food grains. Nonetheless, it is a boon for storing fine, powdery substances. Usually, such dusty material requires expensive additional lining inside storage containers, but tubular bags can often safely hold such materials without an extra internal coating.
3.   Easy Storage:
 Due to its ability to resist bulging, storing tubular bags can be relatively easy. These bags are almost seamless and can be easily rolled into neat stacks at warehouses or storage tanks. Customers who buy Tubular Bags online have vouched for big bags from Jumbobagshop.in as they are of impeccable quality & performance. Additionally, its one of a kind design also aids to quickly fill and discharge products; thus, saving a lot of time.
4.   Customizable: 
Super sacks can be tailor-made to meet your specific wants. These bags can be produced in a variety of sizes as per your needs. They also come in three vibrant loop colours to fit your choice. You can also use these colourful big bags to colour-code your goods for easy identification and assemblage.
5.    Eco-friendly:
 Tubular bags manufactured at Jumbobagshop.in are not just good for your business, but for our environment too. These bags are ethically manufactured to make them environmentally sustainable. They can be reused several times and can also be completely recycled to create new products. 
At Jumbobagshop.in, we understand the needs of our customers and work diligently to provide the best and the most cost-effective bulk packaging solutions. We have crafted a diverse assortment of products to meet your storage needs at the click of a button. So, you can easily buy your FIBC bags online or get in touch with us to find an FIBC bag for your specific purpose.
You may also like to read
What Are Baffle Bags And Why to Use Them ?
TOP Reasons to Buy Big Bags Online