Tips to Buy Garden Bag at Best Price in India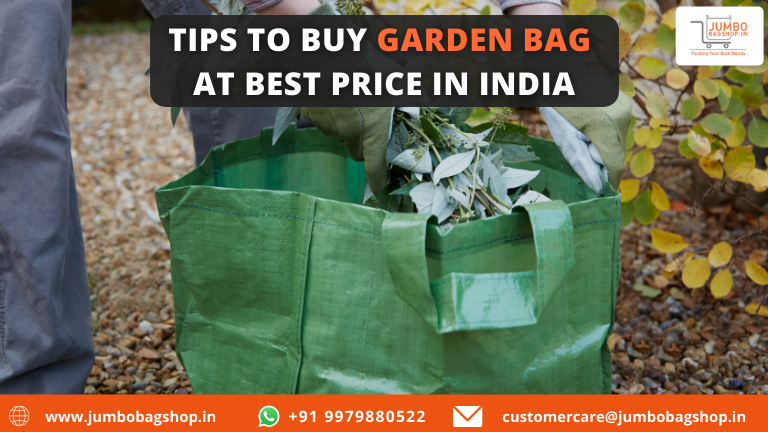 Garden bags offer tons of benefits to farmers and home gardeners. Not just that; they are equally useful as multipurpose bags for various household purposes. Whether you're looking to collect, control, and segregate waste like leaves, twigs, branches, and grass clippings or simply need bags for shopping and household storage, these durable garden bags are an owner's delight.
FIBC Garden Bags can be used for collecting any type of garden waste, including indoor or outdoor plant waste, waste from mowing and landscaping, and even waste from our homes including kitchen scraps, paper, cardboard etc. These heavy-duty fabric bags are affordable, eco-friendly solutions for domestic waste management and bulk packaging. These bags are have perforated weaves to allow garden waste to breathe, which also makes them ideal for composting. They are lightweight, portable, and convenient alternatives to bulky containers and wheeled bins.
Here are some tips to help you get maximum value from your garden bag purchase.
Check for Durability and Efficiency
Buying garden bags online from reputable sources ensures high quality. Leading stores like Jumbobagshop.in stock heavy-duty garden bags in superior quality Polypropylene fabric, which is highly durable, eco-friendly, and low hazard.
At the same time, your preferred garden bag should be one that is reusable. Make sure to choose lightweight and flexible garden bags that are easy to move around and can be perfect for indoor and outdoor usage. Such bags are easy to wash, clean, and store. That way, you can use them multiple times and get your money's worth.
Choose the Right Type of Garden Bag
Garden bags come in various sizes and storage capacities. For example, our garden bags are designed for ease of use and handling and can carry loads up to 50 kilograms. You need to determine which size of garden bag to choose, depending on the purposes you will use them for.
Because garden bags are used for outdoor purposes, UV protected bags are a smart choice. These bags can withstand prolonged sun exposure and won't get damaged easily, which saves you money. When you buy good quality garden bags of the right size and fabric, it's an investment that will last you many years.
Make an Economical Choice
Before purchasing your garden bags, it's advisable to compare garden bags prices from different manufacturers. But price shouldn't be the only determining factor. It's best to buy garden bags that offer great quality and value for money.
Are you looking for reasonably priced heavy-duty garden bags online? Explore our range of superior-grade garden bags at competitive prices here at JumboBagShop.in.