A Mini Guide to Woven Polypropylene Bags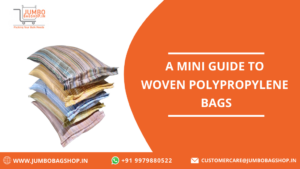 Since the advent of FIBCs (Flexible Intermediate Bulk Containers) in the 1940s, there have been dramatic technological breakthroughs in the field of synthetic polymers, leading to the development of various innovative products with diverse applications.
Polypropylene (PP) is one such product. It also goes by the name polypropylene.
Today, as single-use plastics face a massive backlash around the world because of environmental concerns, polypropylene-based Jumbo Bags/ woven Bags are being considered as a feasible alternative.
The inherent characteristics of polypropylene, especially its strength, durability, versatility, breathability, and cost-effectiveness, are driving the adoption of woven polypropylene sacks for the packaging of a wide variety of products.
PP woven bags are these days increasingly becoming an ideal choice for transporting and storing dry, bulk commodities, particularly products that require long-term preservation. The mini-guide below will give you a quick overview of everything you need to know about woven polypropylene sacks. Let's get started.
What is Polypropylene?
Polypropylene (PP) is a non-polar, partly crystalline thermoplastic polymer that is widely used in a range of industrial applications.
Belonging to the polyolefin family, and manufactured from the propylene monomer, polypropylene is among the top three most-used polymers today.
Polypropylene's low vapor-moisture transmission and exceptional optical clarity make it suitable for both rigid and flexible packaging applications.
Key Physical Properties of Woven Polypropylene Sacks
PP woven sacks come with a number of advantages for the end-user. They offer excellent packaging solutions to varied industries, especially shipping, transportation, and warehousing. Some of the prominent characteristics of woven polypropylene sacks are as follows:
Woven polypropylene sacks are non-toxic, and they are resistant to molds, bacteria, acids, and bases. Both these unique properties of PP woven sacks ensure optimum safety for the user's products, including pharmaceutical and agricultural-based products.
High-grade woven polypropylene sacks are manufactured from lightweight fibres, which makes them the lightest bulk containers for packaging. The low specific gravity and the lighter tare weight of PP woven sacks substantially slash the package weight, allowing companies to ship more for less.
The intelligent design, manufacturing excellence, and cross-stitch pattern of top-quality polypropylene sacks, such as the ones you can get online at Jumbobagshop.in make PP sacks strong, resilient, and breathable. Woven polypropylene sacks also have a protective lining, which makes them a hundred percent moisture-proof container.
An Eco-Friendly Alternative
The reusable and recyclable properties of the material make PP woven sacks eco-friendly. These sacks are an excellent substitute for plastic, and they can be a powerful weapon in the fight against plastic pollution. Most environmentally conscious organizations are preferring woven polypropylene sacks over plastic bags, significantly accelerating the adoption.
Applications of PP Woven Sacks
 From fertilizers to food, chemicals to agriculture, PP woven sacks are gaining traction in diverse industries that have superior packaging needs. Key applications ofwoven polypropylene sacks are:
PP woven sacks are extensively used to store and transport agricultural products, including vegetables, fruits, and aquatic products.
Woven polypropylene sacks are increasingly becoming the preferred choice for packaging flour, rice, corn, and a variety of food products.
PP woven sacks are instrumental in mitigating the adverse effects of floods and other natural disasters.
How to Order the Best-in-Class PP Woven Bags?
A hassle-free way to get high-caliber polypropylene bags at your doorstep is to buy PP woven sacks online from a trusted brand on the market, Jumbobagshop
Ensuring on-time product delivery, consistent quality, and competitive pricing, Jumbobagshop.in has been offering industrial-grade FIBC bags at best prices for over three decades, meeting and exceeding customer expectations.
An eco-friendly organization, Jumbobagshop.in supports the Indian government's initiative to do away with single-use plastics. A structured program has been devised to promote the recycling of PP woven sacks. After use, customers can return their woven polypropylene sacks and earn Rs. 5 to Rs. 50 per bag credit note. Contact us to know more.
You may also like to read:
Polypropylene FIBC Bulk Bags woven to perfection