Choosing the Correct Type of FIBCs When Buying Big Bags Online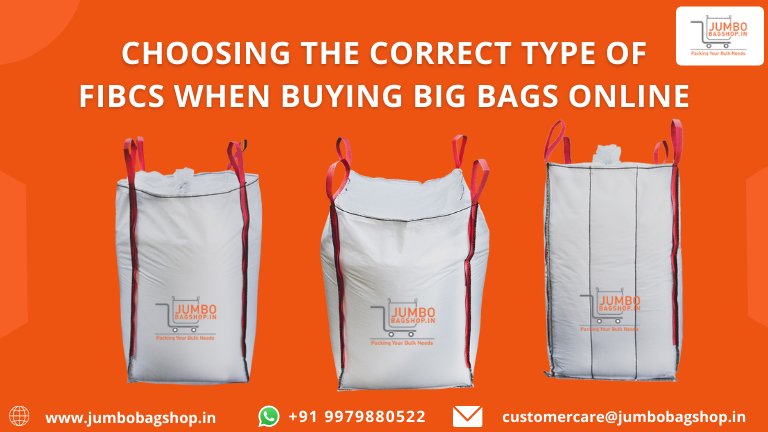 Buying big bags online needs careful consideration to select the best-fit solution that matches your product's requirements. With so many different types of bags sporting varying features, you need to spend some time to find the right one when you buy big bags online.
Let us turn the spotlight on the prime aspects that you have to consider while choosing the correct type of bulk bag that best-fits your needs.
The Fabric
Though FIBC fabric is made of strands of polypropylene, some are constructed with additives that negate the build-up of static electricity. Say, you need to buy big bags to handle dry and combustible materials. A standard FIBC will not offer any electrostatic safety feature but a conductive bag will. Let us take a look at the FIBC bag types from this perspective.
Type-A: for non-flammable, non-combustible products
Type-B: for dry, combustible powders, but not in the presence of flammable gases
Type-C: for highly inflammable powders, however, must be kept grounded for safe usage
Type-D: for highly inflammable products, does not need to be kept grounded.
The Structure
Structurally, a bulk bag can be tubular, U-panel, or 4-panel. These structural differences indicate how the FIBC fabric is stitched to give shape to the bag. Again, there are baffle bags, with additional strips of fabric stitched along the sides to give it a firmer shape when loaded.
Furthermore, you can choose to have 1&2 loop FIBCs, or bags with corner loops, cross loops, tunnel lift features and so on for lifting convenience of loaded bags.
Filling and discharging bulk bags can be a tedious affair, particularly for specific product types. While some products may be easier to fill through a narrow spout-like inlet, others may need a broad opening. Likewise, discharge mechanisms too vary depending upon the product type.
The Capacity
The load capacity of FIBCs is crucial for the safe and smooth handling of your product. Before you buy FIBC bags online, check the safe working load (SWL) of the bag, to fathom the extent to which you can load it up. Another important consideration is whether you can reuse the FIBC multiple times or not. For this, consider the Safety Factor (SF) ratio of the bag. A 5:1 ratio indicates a single-use bag, while multi-use bags are labelled 6:1.
Big Bags Prices
The final consideration is, of course, cost. The FIBC bags prices for the volume that you wish to order should be within your budget. Therefore, it pays to compare quotes from multiple suppliers to find one that provides high-quality bulk bags at the most competitive prices.
Does your business rely on safe, efficient, and cost-effective storage of goods? JumboBagShop.in is your go-to online store for all your bulk packaging requirements, delivered promptly at your doorstep. Browse our excellent selection of big bags online today!